Robert Kiyosaki, the famous author of the best-selling book "Rich Dad Poor Dad", said that Bitcoin is not the problem after the collapse of the FTX exchange. According to Kiyosaki, former FTX CEO Sam Bankman-Fried is more like the Bernie Madoff of the cryptocurrency space than Warren Buffett.
by Robert Kiyosaki
What does Robert Kiyosaki think about the Bitcoin and FTX crash?
Rich Dad Poor Dad author Robert Kiyosaki shares his thoughts on Bitcoin, the failure of the FTX exchange, and former CEO Sam Bankman-Fried (SBF). FTX filed for bankruptcy last week, and Bankman-Fried also resigned as CEO.
After the failure of FTX, many people rushed out of the crypto space, causing a severe sell-off in the market. However, Kiyosaki tweeted on Monday:
"Bitcoin is not a problem. It's very small compared to gold, silver, and oil that cause inflation."
In contrast, the exchanges he declared bankrupt, President Joe Biden's family, the Federal Reserve, Marxist educators, and corrupt politicians are "very serious important issues."
"Gold, silver, bitcoin, police, sophisticated investors are essential to our personal liberty."
FTX is under investigation by multiple agencies, including the U.S. Department of Justice (DOJ), the U.S. Securities and Exchange Commission (SEC), and the Commodity Futures Trading Commission (CFTC).
Kiyosaki compares FTX and Bankman-Fried to Bernie Madoff and his Ponzi scheme
In another tweet on Tuesday, the popular writer write:
"FTX was the largest donor to the Democrats during the midterm elections. Kevin O'Leary and Jim Cramer praised Sam Bankman-Fried, calling him the Warren Buffett of crypto. SBF is more like Bernie Madoff. Silicon Valley and Hollywierd can become How corrupt?".
Madoff ran the largest Ponzi scheme in history, worth an estimated $64.8 billion. He was convicted of fraud, money laundering, and other related offenses and sentenced to 150 years in federal prison. Madoff died in prison on April 14 last year at the age of 82.
Kiyosaki isn't the only one who has noticed similarities between Bankman-Fried and Madoff. Sheila Bair, who led the US Federal Deposit Insurance Corporation (FDIC) during the 2008 financial crisis, recently pointed out striking similarities between the Bankman-Fried Ponzi scheme, FTX, and Bernie Madoff. She added:
"Charismatic managers and investors can distract them from digging in and understanding what's really going on… that feels a lot like Bernie Madoff."
Meanwhile, Binance CEO Changpeng Zhao (CZ) said FTX's failure was similar to the 2008 financial crisis, and former U.S. Treasury Secretary Larry Summers likened the exchange's scandal to the Enron scam.
Shark Tank star Kevin O'Leary owns a stake in FTX and has signed a multi-year deal to become an ambassador and spokesperson for the exchange. In return, he received cryptocurrency and the rights to manage the FTX platform. Bankman-Fried is a major Democratic donor. The former FTX executive is the Democratic Party's second-biggest donor in 2021-2022, with $39.8 million, behind billionaire George Soros, according to political donor Open Secrets.
Kiyosaki is a Bitcoin investor. He has been recommending BTC for some time. Last month, he explained why he should buy bitcoin. In September, he urged investors to get into the cryptocurrency market now, before the biggest economic collapse in history takes place.
Ripple CEO thinks FTX is a scam
Interview recently on CNBC International, Ripple CEO Brad Garlinghouse suggested that the FTX exchange is a scam.
The Ripple executive explained that the cryptocurrency industry is currently in its infancy. That's why it attracts all kinds of users, including scammers.
"Cryptocurrency includes not only positive things but also negative things. I think cryptocurrency needs to mature as an industry," Garlinghouse said.
He emphasized that Ripple, despite not being regulated as a public company, is "very" transparent.
In a bitter legal battle with the SEC, Garlinghouse accused the regulator of trying to "gain power" through enforcement actions.
The case will go before a judge in late November, Garlinghouse added.
"The question is how long it will take for a federal judge to rule on this case. Maybe 2 months, maybe 6 months. We don't know."
The Ripple boss reiterated his prediction that the case will be resolved in the first half of 2023.
U.S. District Judge Analisa Torres recently allowed some companies and organizations to formally file amicus briefs in support of defendants or plaintiffs.
The SEC sued Ripple in December 2020, accusing it of illegally selling XRP.
Other News
President Nayib Boukle announces that El Salvador will buy 1 Bitcoin per day
As the first country in the world to accept Bitcoin as legal tender in September 2021, El Salvador will return to its days of serial BTC purchases after a months-long pause in a bear market. price.
President Nayib Bukele of El Salvador announced today that the Central American country will start buying bitcoin daily on November 17. The announcement comes nearly three months after the country bought bitcoin. The last Bitcoin purchase will be in July 2022.
we echo @nayibbukeleactive purchase #bitcoin Daily.we will buy one too #bitcoin Every day starts tomorrow!

— Justinsuntron 🌞🇬🇩🇩🇲🔥 (@justinsuntron) November 17, 2022
Justin Sun, the founder of TRON, immediately responded to the call of President Nayib Bukele, saying that starting tomorrow, he will also buy 1 BTC per day.
El Salvador has been buying bitcoin since September 2021, shortly after Congress passed the bitcoin bill. At the time, BTC was in the middle of a bull cycle, and investing in cryptocurrency produced huge returns as the price kept hitting new all-time highs (ATH) on a weekly basis. However, starting in the second quarter of 2022, El Salvador's BTC portfolio was hit hard by the "crypto winter".
According to public records, El Salvador currently holds 2,381 BTC at an average purchase price of $43,357. In total, the country spent nearly $103.23 million on investments, and their BTC holdings are now worth just $39.4 million, a loss of over $60 million.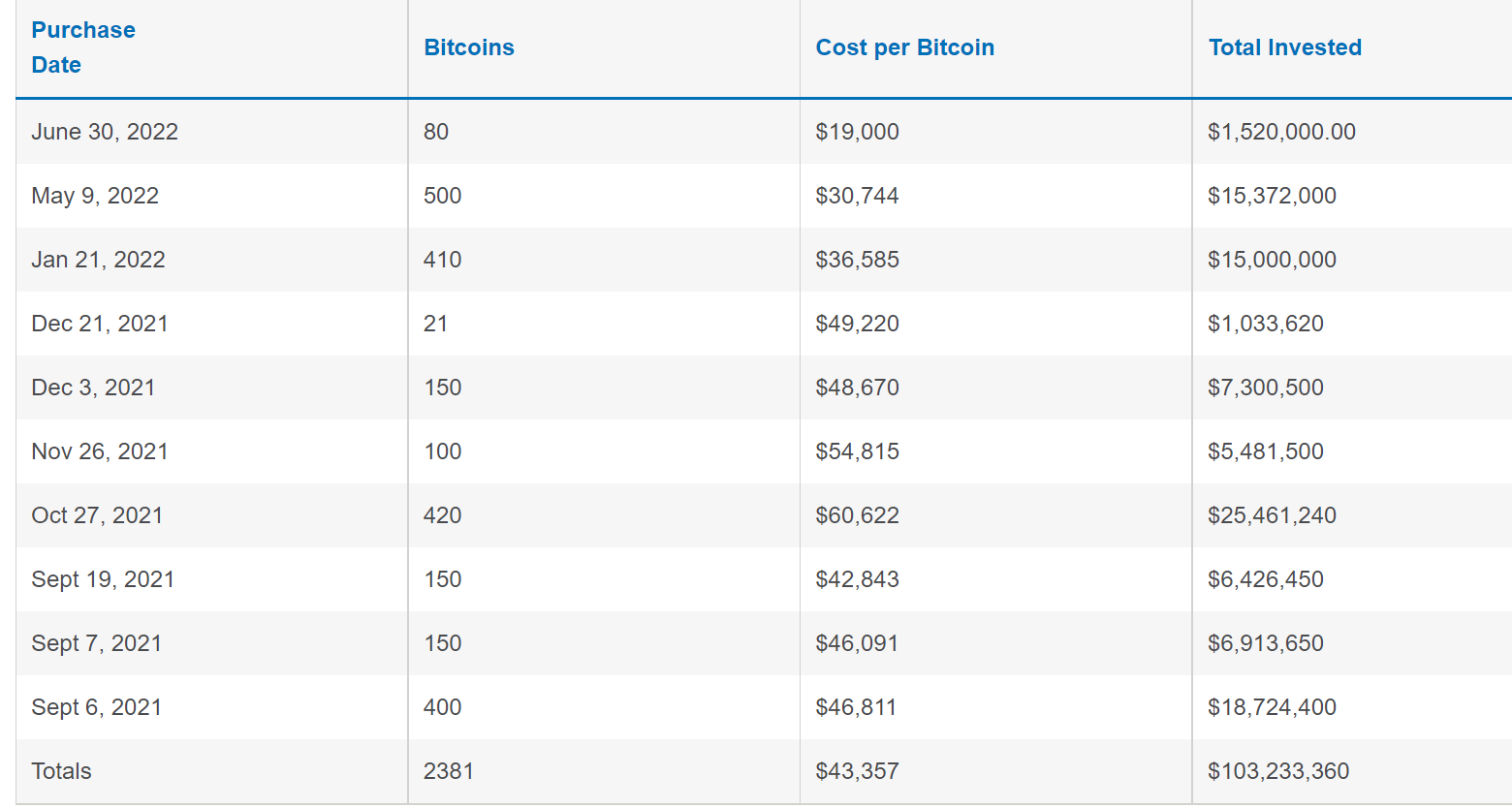 El Salvador BTC Purchase History.
Announcing daily Bitcoin DCA purchases just as the leading cryptocurrency hit new lows in a downtrend cycle could help El Salvador recover some of its losses in the coming months.
However, in addition to the benefits, the country has gained from buying BTC, being the leading cryptocurrency has played an important role in greatly reducing the cost of cross-border remittances, and has also given a strong boost to the tourism industry. President Nayib Boukle's country has been mentioned in the international media over the past year for being the first country in the world to legalize Bitcoin. The ad is worth even more than the $100 million that El Salvador spent to buy BTC.
BTC adoption in El Salvador doesn't look promising right now due to a "pretty cold" crypto winter. However, looking at the history of Bitcoin price cycles, the country is likely to easily "shore" through "Hodl to die" in the next bull market cycle.