NFT Marketplace OpenSea is launching a new online tool to help creators calculate royalties.
OpenSea, which has a 66% share of the NFT market, has been relatively quiet on the issue of royalties and enforcement, while other marketplaces in the space have been developing their own strategies for months.
OpenSea releases an on-chain tool for calculating NFT royalties
In a Nov. 6 blog post, OpenSea CEO Devin Finzer noted that voluntary creator fees have fallen below 20% in markets where fees are optional; in other markets, the opposite is true.
The OpenSea CEO announced the market launch of a new tool that allows creators to enforce royalties on-chain. In the past few months, there has been a lot of discussion about the business model of NFT creators and whether creator fees are feasible.
There's been a lot of discussion over the past few months about business models for NFT creators & whether creator fees ("royalties") are viable.

Given our role in the ecosystem, we want to take a thoughtful, principled approach to this topic & to lead w/ solutions. 🧵

— OpenSea (@opensea) November 6, 2022

Finzer described the tool as "a simple piece of code" that allows creators to collect royalties on new NFT smart contracts. In the future, these smart contracts can be upgraded for the better. The guidelines will also limit the sale of NFTs to creator-fee enforcement marketplaces.
"Obviously, many creators want to be able to enforce on-chain fees; fundamentally, we believe the choice should be theirs, not the market's."
Finzer also stated that OpenSea will use the on-chain execution engine to collect royalties on new collectibles, but will not do so for new collectibles that have not opted in.
OpenSea does not force everyone to use this solution, creators can use any solution they want and implement it in any way. The tool was also not implemented for existing NFT collections due to operational challenges.
According to Finzer, this could include options such as continuing to enforce off-chain fees for certain collection subsets, allowing optional fees for creators and collaborating on options. The other is on the creator's chain.
Other News
Most Popular NFT Marketplaces by Market Share and Volume
The competition among the top NFT platforms has intensified this year. Therefore, this article will review and evaluate the market share of the top 5 NFT markets: OpenSea, MagicEden, x2y2, CryptoPunks, and LooksRare.
It is important to note that markets are calculated by total volume, excluding wash trades.
OpenSea continues to lose market share in the bear market, down 67.4% YTD
OpenSea, which had been the top NFT market in January 2022, had the lowest monthly transaction volume in September 2022, and its market share fell 67.4% year-on-year. After what happened to this NFT market on Ethereum, it's no surprise that OpenSea continues to lose the top 5 market share. Despite this, it remains the dominant platform with a 60% market share.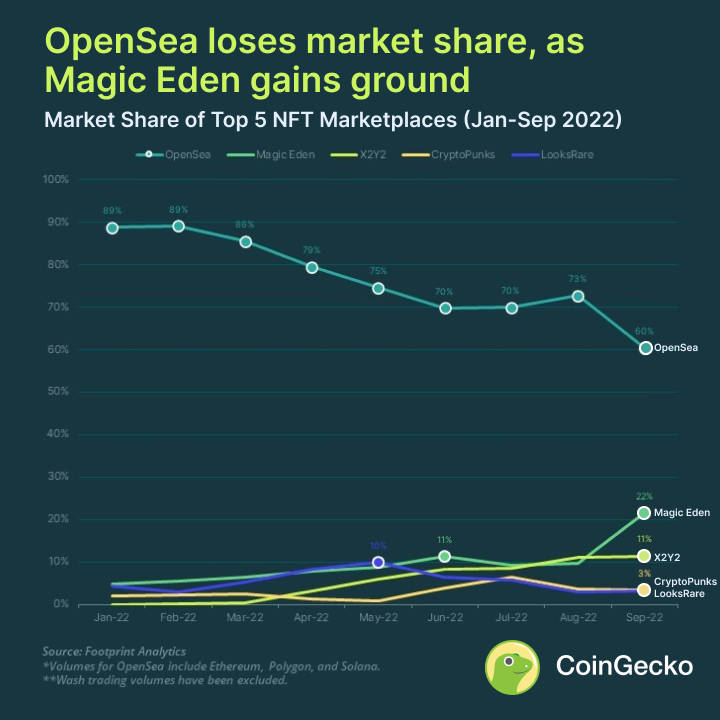 Source: CoinGecko
For the remaining 4 NFT markets, OpenSea's market share has steadily declined from 89% in March to stabilize at around 70% since May 2022, before further dropping to 60% in August.
With a 22% market share, MagicEden is the mainstay of the NFT market on Solana
MagicEden's market share capture from OpenSea in the third quarter of 2022 is an important factor leading to the decline of OpenSea's dominance. Monthly volumes in this market doubled and market share jumped from 11% to 22% in September 2022, while the remaining competitors all lost market share. One possible reason is the platform's recent expansion to Ethereum and the highly anticipated y00ts NFT series launch.
Interestingly, Magic Eden is not the first NFT platform on Solana. Launched in June 2021, Solanart was very popular. Three months after its launch in September 2021, MagicEden will have to overcome the advantages of being the first. With better user experience and website performance, and some high-profile fundraising, Magic Eden is quickly overtaking Solanart, growing 440% through 2022. Despite OpenSea's foray into Solana in April 2022, Solana's NFT transaction volume is minimal compared to Magic Eden.
NFTs outside the Ethereum ecosystem rarely set standards due to a lack of perceived cultural value and relevance. However, Solana broke the rules and successfully established an NFT community and project culture dominated by Magic Eden.
Wash trading On LooksRare and X2Y2
Wash trading is a common phenomenon on NFT platforms that reward traders with their native tokens. LooksRare (LOOKS) and X2Y2 have the advantage of being successors to OpenSea. To attract users to the platform, traders are rewarded with tokens based on a percentage of the trading volume. Typically, this is not cost-effective due to platform transaction fees and royalties. However, there are royalty-free collectibles that are financially viable if the value of the tokens earned is greater than the fee.
Through these wash trades, LooksRare peaked at a 10% market share in May 2022 but has since declined by 233% and currently accounts for just a 3% market share. In its heyday, LooksRare was the only alternative to OpenSea that vampires OpenSea users. However, LooksRare lost market share following the launch of X2Y2 in April 2022, which employs a similar strategy but with lower transaction fees.
Steady growth in X2Y2, reaching 11% market share in Q3 2022
Volumes on the newly launched NFT marketplace X2Y2 are still impressive (even netting out wash trading). X2Y2 has grown steadily since its launch in February, reaching an 11% market share by the end of Q3 2022.
Several factors are driving X2Y2's growth. First, NFT aggregators like Gem and Genie are growing in popularity, allowing buyers to buy NFT collectibles across multiple marketplaces in one transaction. Additional features such as rarity ratings and cheaper gas costs are also attractive and can make users agnostic to the market.
As the user experience is simplified, price (selling fee) becomes the most important factor. X2Y2 is currently the cheapest marketplace on Ethereum with a 0.5% selling fee (the fee was reduced in July). Meanwhile, OpenSea is at 2.5%, and MagicEden and LooksRare are at 2%. Other platforms allow creators to set their royalties.
In August 2022, X2Y2 made the controversial decision to eliminate royalties on collectibles, giving buyers the choice of whether to pay royalties. This follows the July launch of Sudoswap — a decentralized protocol that allows users to buy and sell NFTs via an automated market maker (AMM) and bypass royalties.
CryptoPunks Remain Relevant With a 2.9% Market Share
After establishing itself as a blue chip, CryptoPunks continue to outperform most collectibles in volume (and value). On average, they capture 2.9% of the market each month. That's impressive for an independent project — accounting for 50% of the top 10 most expensive NFTs ever sold.
It should be noted that, unlike most collectibles, CryptoPunks is one of the few collectibles that has its own native NFT marketplace due to its unique (not quite ERC-721) smart contract logic.