A controversy erupted on Twitter when Input Output CEO Charles Hoskinson commented on the SEC corruption allegations, refuting claims that the securities regulator picked Ripple and the token XRP to sue.
Charles Hoskinson (correct) – CEO Input Output
John E. Deaton brought up the topic, confirm The lack of clear regulation of cryptocurrencies is a uniquely U.S. goal. Hence, this line of thinking leads to a lack of user protections such as 1-1 proof of reserve for exchanges.
Following the collapse of FTX, some exchanges voluntarily compiled proofs of reserves to demonstrate solvency. But this is still a voluntary initiative, so there is a lack of standardization between exchanges and verification from recognized sources.
After that Deaton show, Sam Bankman-Fried has close ties to securities regulators, which he finds incredible since Coinbase and Kraken are US-licensed. However, it does not seem to have much impact on the SEC.
"Ask yourself, why is Gary Gensler meeting with SBF and not Brian Armstrong or Jespow? Even giving Gensler the benefit of the doubt, why isn't SBF, the largest exchange in the US, without a broker-dealer license?"
Deaton, a key figure in the lawsuit between the SEC and Ripple, represented 75,000 XRP holders in an amicus curiae (friend of the court) brief, arguing that the misuse of the Howey test identified XRP as a security, resulting in significant losses for investors.
According to current unproven understanding and interpretation, only Bitcoin and Ethereum are considered commodities, not securities. This means that both are subject to regulatory scrutiny by the Commodity Futures Trading Commission (CFTC) rather than the SEC.
Some say the CFTC is more open and responsive to crypto innovation in the US. For example, attorney Jeremy Liabo of Chicago Ropes & Gray said:
"The CFTC is a friendly regulator because it is open to innovation."
Hoskinson talked about a conspiracy to sabotage a relationship durable in the industry
Responding to the topic, Hoskinson dismissed any conspiracy theories against the crypto industry, saying he was briefed on the platform during a U.S. congressional committee hearing in June and is in regular contact with regulators.
According to the Cardano founder, claims that Ethereum developer ConsenSys conspired with the SEC to "pro-Ripple" does not help create stronger ties between the industry and regulators.
"I actually spoke to the U.S. Congress this year. I've been actively involved with regulators. What doesn't help is convincing the entire community that Joe Lubin bribed the SEC to support Ripple. This madness destroys all hope of a healthy relationship," he tweeted.
Deaton said he did not blame ConsenSys Chief Executive Joseph Lubin for "seeking clarity and even light regulation". But his arguments centered on alleged violations involving former SEC director William Hinman.
Hinman is affiliated with the Ethereum Foundation through the law firm Simpson Thacher. Most recently, cryptocurrency YouTuber Ben Armstrong criticized Hinman for accepting bribes to greenlight ETH as a commodity.
Ripple CTO speaks out
Rejecting Deaton's arguments, Hoskinson says ETH's status as a commodity has nothing to do with Ripple's legal disputes with regulators. He added that Deaton's view on corruption ultimately sees XRP as a security.
Ripple CTO Joel Schwartz was quick to fire back and criticize Hoskinson, saying Ethereum's "free passage" to the SEC must have affected the ongoing lawsuit against Ripple.
Elder brother explains Classifying XRP as security while agreeing that ETH is a commodity means applying "precision" to that conclusion. Schwartz then suggested that Ripple was willing to fight the SEC in order to reveal such small details to gain regulatory clarity.
"To accept that's a reasonable position, you have to think about the important things in a concrete way."
Other News
ETH May Drop to $600 Based on Historical Data, According to KOL Benjamin Cowen
Leading smart contract platform Ethereum (ETH) will return to pre-bull market levels in 2020, according to a prominent analyst.
In a new strategy session, Benjamin Cowen says with his 773,000 YouTube subscribers, the Ethereum price may fall back to the $600 level.
"I've been talking about this all year, ETH is currently heading for the 5th retracement in its history.
If you remember back in 2018, Ethereum was down about 95% or deeper. I'm not saying ETH will drop 95%, but if history rhymes, ETH will drop to $600, which means a drop of almost 90%.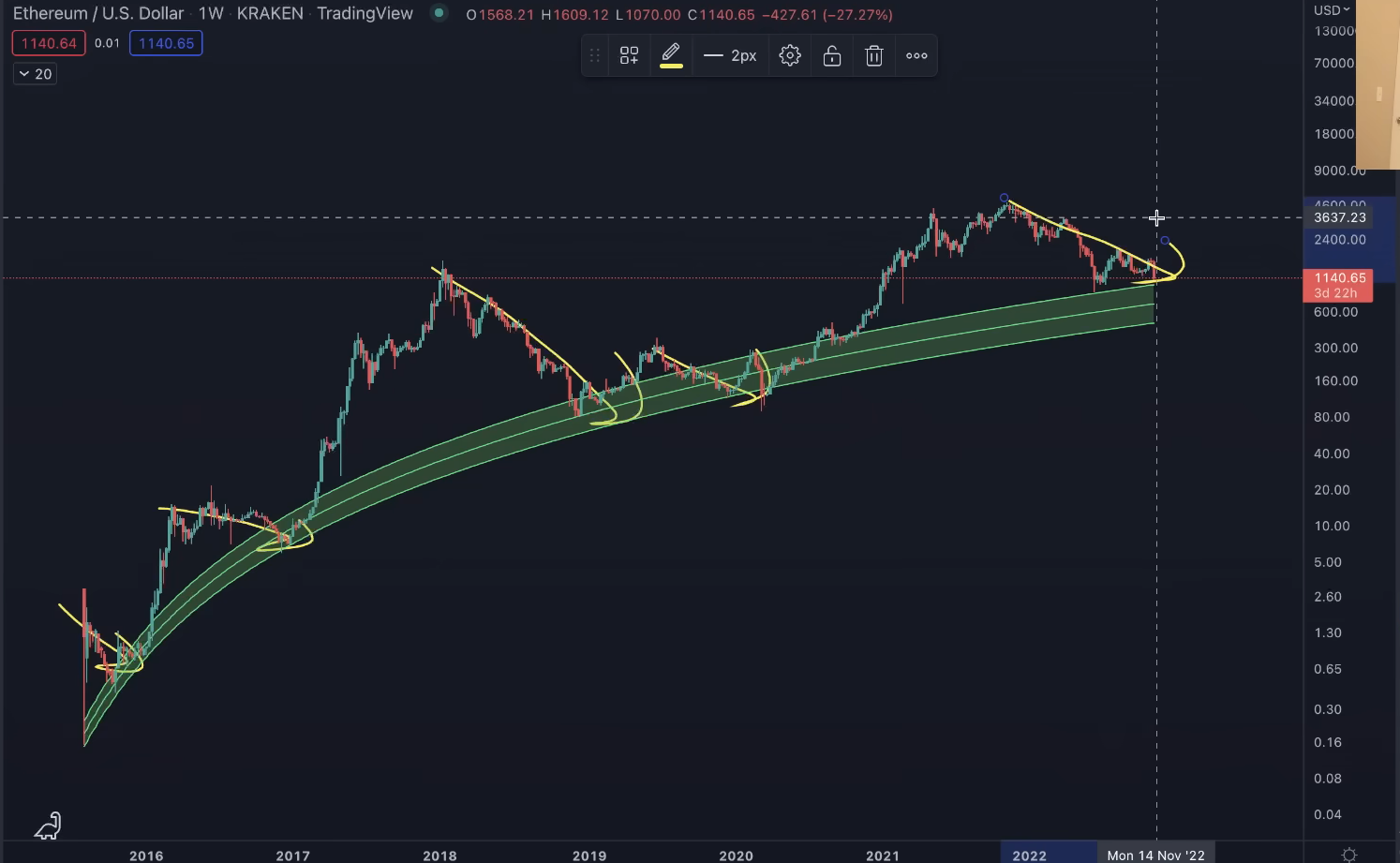 Weekly ETH/USDT Chart | Source: Benjamin Cowan/YouTube
Despite some investors calling for an end to the bear market, ETH bears will remain dominant for the foreseeable future, the analyst said.
"It took a long time, I mean it took a long time for us to get there, but I think we will get there eventually. In my opinion, ETH will bottom out at the retracement and rebound on another wave Previously accumulated near the retracement zone.
If you're new to cryptocurrencies and doubt these bearish predictions, the next few months will bring you to your senses. You should plan for these situations, and even though they may not happen, there is a high probability that they will happen. "
At the time of writing, Ethereum is changing hands at $1,251, about 52% away from Cowen's underlying price target.