From Bitcoin's SOPR falling to its lowest level since March 2020, to Binance seeing record withdrawals in Bitcoin, Ethereum, and stablecoins following the FTX crash. Here are some highlights from the crypto market.
Bitcoin news
Bitcoin (BTC) sellers are suffering their biggest losses since March 2020, an on-chain metric shows.
Data from analytics firm Glassnode confirm Bitcoin's Spend Output Profit Ratio (SOPR) metric has now dropped to a two-year low.
SOPR fluctuates around 1, tending lower in bear markets and above it in bull markets.
The indicator's 7-day moving average was 0.9847 as of Nov. 14, the lowest level since the March 2020 COVID-19 market crash.
If BTC/USD starts to appreciate, holders will have the incentive to sell at the original price or slightly higher to avoid losses. This resulted in an oversupply with no buyers, forcing prices down again.
As such, SOPR serves as a useful predictor of underlying price trends, with level 1 becoming an important threshold indicating when holders turn into sellers.
In March 2020, SOPR briefly fell to 0.9486. However, it is still not as low as the 2018 bear market, when SOPR touched 0.9416.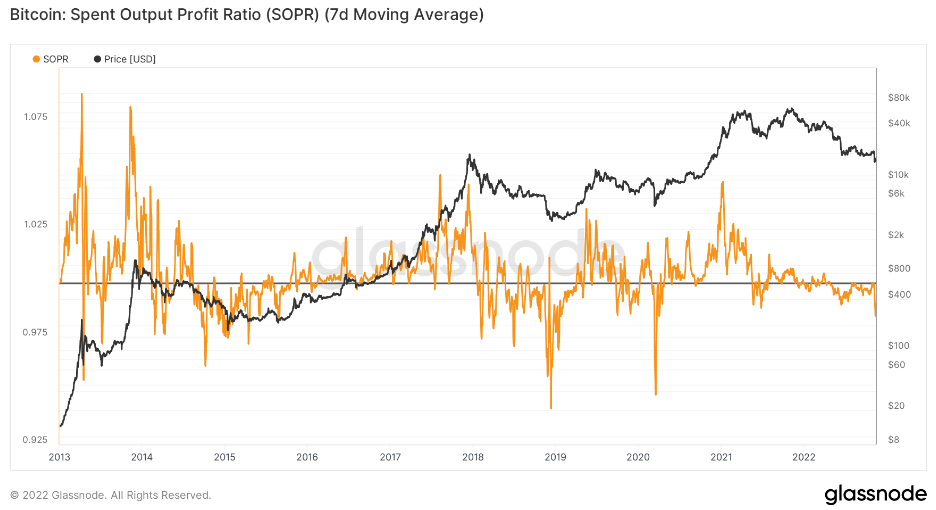 Bitcoin SOPR Chart | Source: Glassnode
Meanwhile, users are taking advantage of Bitcoin's bearish momentum to buy the dip.
Additional Glassnode data shows that the number of wallets containing at least 0.1 BTC (currently around $1,700) now exceeds 4 million.
While rising almost consistently this year, the trend has accelerated noticeably as the FTX scandal sent BTC/USD plummeting.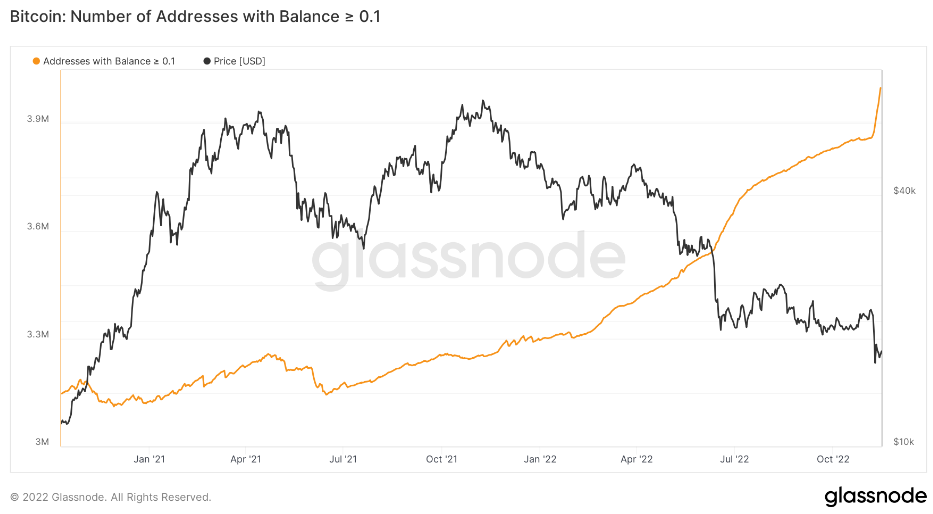 Number of addresses with a balance of 0.1 BTC and above | Source: Glassnode
Ethereum News
Follow data powered by Whale Alerts, an Ethereum address containing 500 ETH (approximately $631,500) is now active after more than seven years of dormancy.
It is unclear why the above address was activated after so many years. Some users started joking about how Ethereum co-founder Vitalik Buterin found a dusty wallet under his bed.
It is not uncommon for crypto wallets to wake up after a long period of inactivity. Previously, another ICO address was awakened at the end of October.
Citron Research continues to short ETH
Citron Research has tweets that said, they have a bearish view on Ethereum (ETH), the second-largest cryptocurrency in the market.
Citron believes that ETH has many "common problems" like the FTX crash.
Amid the ongoing cryptocurrency crisis, Citron revealed that they are still shorting ETH.
Ripple News
Judge Annalisa Torres gave many requirements to submit briefs from Ripple supporters and the US Securities and Exchange Commission (SEC).
Coinbase, the largest U.S. cryptocurrency exchange, has filed an official brief in support of the defendants.
The exchange argued that the SEC did not provide sufficient guidance for the crypto market.
"Although Bitcoin was launched in 2009, it was not until eight years later, in 2017, that the SEC first published their belief that securities laws could apply to crypto assets," concluded the conclusion.
Additionally, Coinbase said the SEC's enforcement action "surprised and hurt crypto market participants" as XRP's market cap fell by $15 billion.
Binance News
After the FTX crash, the number of Bitcoin, Ethereum, and stablecoin withdrawals on the Binance exchange hit an all-time high.
Over the past six days, 81,712 bitcoins ($1.35 billion), or more than 15 percent of the roughly 500,000 bitcoins held on Binance, have been withdrawn from the platform, according to CryptoQuant. Additionally, 125,026 ether ($155 million) and $1.14 billion in stablecoins were withdrawn from exchanges during this period.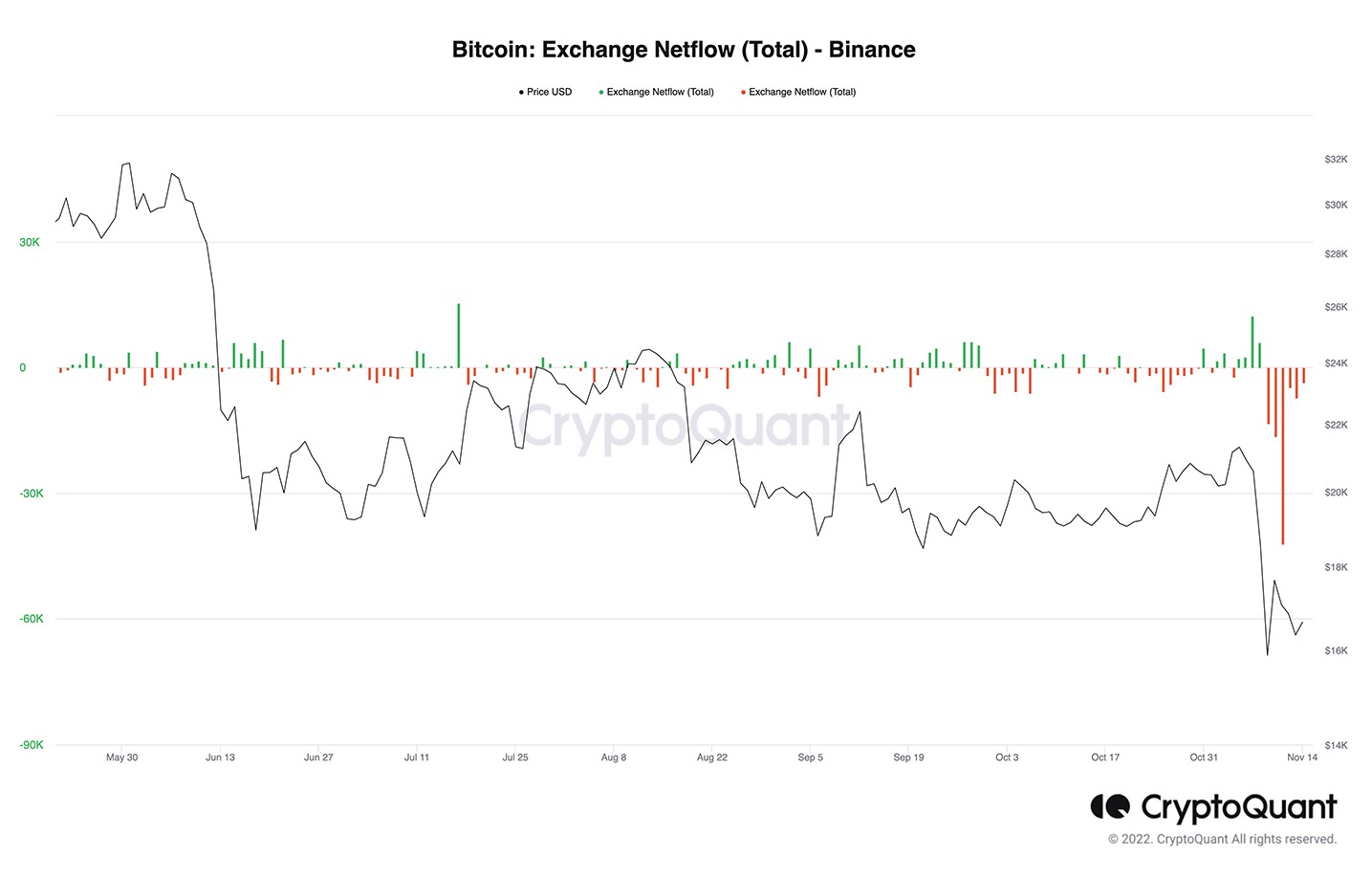 Amount of Bitcoin withdrawn from Binance | Source: CryptoQuant
Binance CEO Changpeng Zhao said in his reply to the AMA on the evening of November 14: speak out urging calm, said it was normal for withdrawal rates to rise "slightly" when overall market values ​​fell.
User withdrawals are industry-wide. According to data from Coinglass, exchanges have withdrawn nearly 200,000 bitcoins in the past 7 days, reducing the number of bitcoins held by exchanges to 1.88 million. Other cryptocurrency exchanges such as Coinbase (COIN), Gemini, and Kraken also showed similar deficits as Binance.
Multicoin Capital News
Leading crypto venture capital firm Multicoin Capital, invested $25 million in FTX through their $430 million venture fund.
In addition to its $25 million investment in FTX US, the venture fund also holds about $2 million in FTX International.
On November 11, FTX filed for bankruptcy protection under Chapter 11 of the U.S. Bankruptcy Code. As of Nov. 12, FTX held only about $1 billion in liquid assets and $9 billion in liabilities.
BlockFi News
BlockFi negative rumor has it that most of their assets are kept on the cryptocurrency exchange FTX.
"We are no longer able to operate our business as usual," BlockFi said in a letter to clients.
BlockFi said that with FTX and all of its affiliates currently in the bankruptcy process, the "most prudent" move would be to suspend many of the platform's operations.
The company said it would continue to stop withdrawals while asking customers not to make any deposits.
BlockFi also denied rumors that all or even a majority of the company's assets are hosted on the FTX exchange.
Visa News
Visa decided after a series of recent disasters, cooperation with the FTX exchange was stopped.
According to Reuters, on the evening of November 14, Visa and FTX officially parted ways. A visa spokesperson said:
"Unfortunately what happened to FTX and Visa is monitoring the situation closely. We have now terminated our global agreement with FTX and its debit card program."
Yuga Labs News
Yuga Labs, the company behind the popular NFT project Bored Ape Yacht Club (BAYC), doesn't seem to be "meeting" its expansion ambitions.
Yuga Labs continued earlier this week after purchasing IP from Larva Labs' two notable NFT collections, CryptoPunks and Meebits, in March 2022. They notice that they have acquired NFT WENEW, a startup co-founded by renowned artist Mike Winkelmann (Beeple).
Since its launch in June 2021, WENEW has partnered with several well-known brands, including Gucci, Louis Vuitton, Playboy, and Wimbledon.
Uniswap News
The shockwaves of FTX's historic crash are still being felt across the industry, but some parts of the market like DeFi fared better as a result of the event.
In the past seven days alone, trading volume on decentralized exchanges (DEXs) has hit $32 billion, according to data from blockchain analytics platform Dune Analytics.

DEX exchange trading volume statistics last week | Source: Dune Analysis
The bulk of the trading volume came from Uniswap, accounting for $20.9 billion, which led to an increase in the number of new users across all of Uniswap's web applications, touching the highest level in 2022.