From the announcement that Bitcoin miner wallet balances have dropped to their lowest level since January 2021, to Binance delisting trading pairs from FTT. Here are some highlights of the crypto market.
Bitcoin news
The continued market decline caused by the FTX crash has hit Bitcoin miners hard. The market has seen the largest one-day miner selling pressure since January 2021, and according to analytical data, this selling pressure shows no signs of stopping.
We could still see more selling pressure from miners before the average hash price starts to drop. In November 2022, the average hash price reaches $0.05. Bitcoin's current level of $17,000 makes mining unprofitable for miners.
With tens of thousands of new ASIC miners added to the market in the past year, and even the biggest miners facing huge losses, few would have expected the hash price to rise so quickly. .
The latest Bitmain S19Pro ASIC miner costs around $9,000 per device, has a payback period of 1,500 days and an average hash price of $0.06.
Increased mining costs and reduced profits prompted miners to sell their bitcoin holdings. Miner wallet balances have plummeted since early November to their lowest level since January 2021.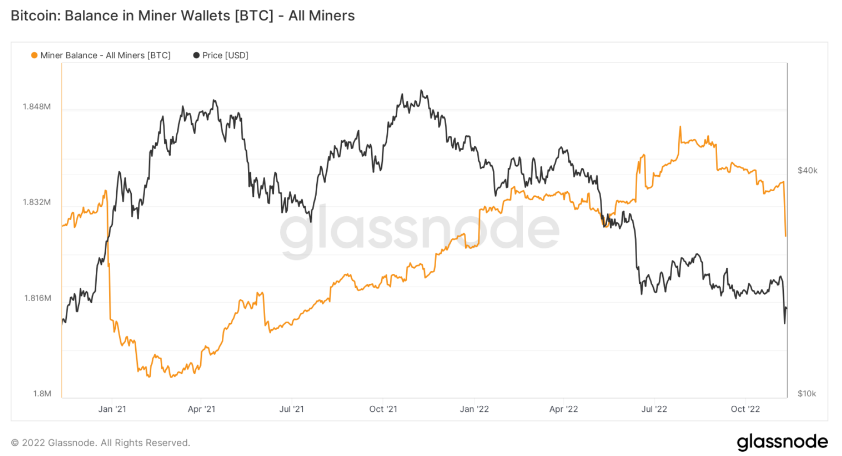 Bitcoin balances in miners' wallets from January 2021 to November 2022 | Source: Glassnode
Changes in the net asset position of miners correlate with sharp drops in the price of Bitcoin. With energy prices expected to rise throughout the winter and the ongoing bear market showing no signs of ending, we may see many unprofitable miners shut down their operations.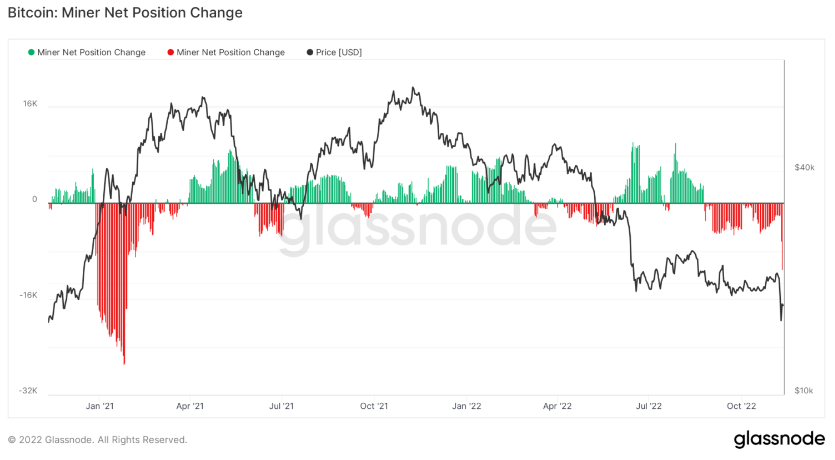 Chart showing changes in Bitcoin miner assets | Source: Glassnode
Huobi News
Huobi Global, once the leading cryptocurrency exchange in China, has announced Sunday's Asset Transparency report reassured users that their funds were safe.
As of Nov. 12, the exchange held 191.84 million HT tokens ($900 million), 9.7 billion TRX, 820 million USDT, 274,000 ETH, 32,000 BTC, and several other altcoins, including ATOM, ADA, BCH, DOGE, DOT, MATIC, SHIB, etc.
The total value of the reserve is estimated at $3.5 billion, the report said.
USDP News
Amid the market meltdown triggered by the FTX/Alameda controversy, stablecoins have cemented their foothold in the crypto market.
Pax Dollar (USDP) is a stablecoin pegged to the U.S. dollar, known as "the world's top managed stablecoin", and has entered the top 50 crypto assets by market capitalization.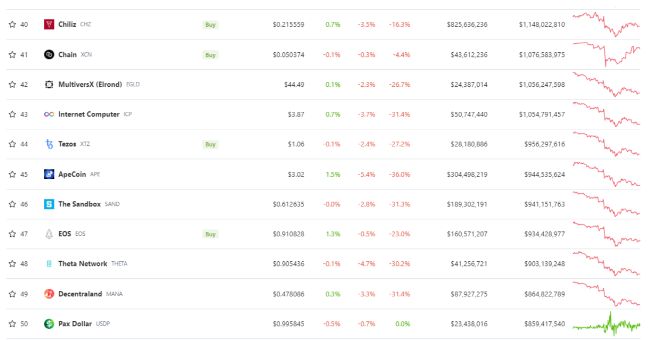 Source: CoinGecko
It overtook Lido DAO (LDO) and Compound USD (CUSDC) with a market cap of $859.4 million and is now the 50th largest crypto asset.
It is followed by Gemini Dollar (GUSD) with a market cap of $816 million and TrueUSD (TUSD) with a circulating supply of $769 million, which could be the next assets to enter the top 50 in the future.
Binance News
Binance has to implement at 18:30 today, exit and stop trading on the following leveraged trading pairs:
Cross-margin trading pairs: FTT/BUSD and FTT/USDT
Isolated margin trading pairs: FTT/BUSD, FTT/BTC, FTT/USDT
Binance Simple Earn will remove FTT from flexible products at 11:30 (UTC) on November 14, 2022.
Binance Liquid Swap will remove FTT/USDT, FTT/BUSD, FTT/BTC, and FTT/BNB trading pairs at 11:30 (UTC) on November 14, 2022. User deposits in the above FTT liquidity pool will be automatically exchanged at 11:30 on 11/14/2022.
Binance Auto-Invest will also remove FTT at 11:30 on November 14, 2022.
Binance Futures will close all open positions and orders at 11:00 on November 14, 2022 and 11:30 on November 14, 2022, and start the automatic settlement of USDⓈ-M perpetual contracts FTTUSDT and FTTBUSD respectively. USDⓈ-M FTTUSDT and FTTBUSD perpetual contracts will be delisted after the settlement is completed.
FTX News
Various sports organizations are pulling out of sponsorship deals with cryptocurrency exchange FTX. The trading platform pledged to spend millions to build a brand among sports fans before going bankrupt.
NBA's Miami Heat and Miami-Dade County say on Friday, it terminated its agreement with FTX and said it intends to find a new naming rights partner for the basketball team's arena. This is considered one of the exchange's most expensive sponsorship deals.
A $135 million, 19-year deal to rename the stadium, FTX Arena, was signed last June. The news that the Miami Heat will withdraw from the agreement comes after FTX announced it was filing for Chapter 11 bankruptcy protection in the United States and its CEO Sam Bankman-Fried resigned.
In September 2021, FTX signed a long-term sponsorship deal with Formula 1 team Mercedes-AMG Petronas, taking another big step in the sports arena. Trading was also terminated when the exchange declared bankruptcy.
Kraken News
Kraken has frozen accounts owned by FTX Group, Alameda Research and their executives following their Chapter 11 bankruptcy filing.
"Kraken has contacted law enforcement regarding several accounts owned by bankrupt FTX Group, Alameda Research, and executives. These accounts have been frozen to protect creditors."
Kraken added that other client funds were not affected and that it "retains all reserves."
Shiba Inu News
The Shiba Inu official Twitter account stated that the project development team will continue to work side by side with the community.
The Shiba Inu team heralds a "brighter future" for the crypto space, where everyone can take advantage of the new opportunities created by the decentralized finance (DeFi) space.
The reassuring news comes at a time when markets are suffering from their most devastating crisis to date.
After FTX crashes, Shiba Swap developers have called users to no longer trust centralized exchanges. "Remember, if you don't hold the private key, it's not your cryptocurrency, even if you pay for it," the developers wrote.
The market value of SHIB has now fallen below the $6 billion mark, and the token price has fallen 89.02% from its all-time high.
Gate.io News
In response to growing skepticism among crypto investors following the FTX crash, the exchange has agreed to share proofs of reserves with the public as a demonstration of transparency. White. However, some anomalies were uncovered during on-chain investigations that indicated bad behavior and market manipulation.
Two days after Crypto.com disclosed its cold wallet storage information, investigators discovered that on October 21, 2022, 320,000 ETH was sent to Gate.io. However, Crypto.com CEO Kris Marszalek has denied any wrongdoing, saying the funds were inadvertently moved and eventually returned to the original archives.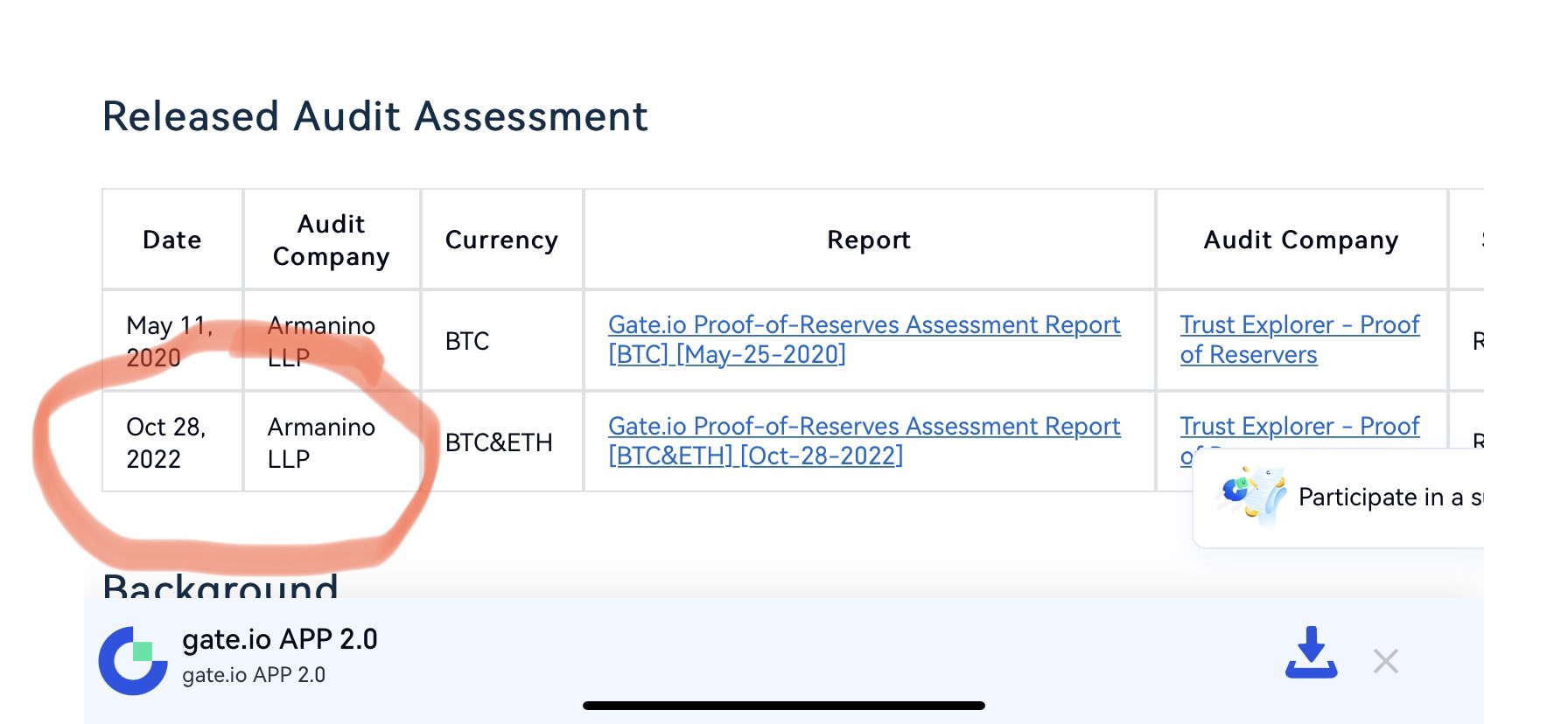 Gate.io released an asset snapshot on October 28th | Source: Wu Kelin
Furthermore, the crypto community suspects that Huobi is… try to implement the same manipulative behavior. Shortly after releasing a snapshot of its assets, a wallet address associated with the Huobi exchange was found to have transferred 10,000 ETH to Binance and OKX deposit wallets.