From Bitcoin comments showing fresh bullish signals to FTX silently moving millions of dollars worth of cryptocurrency. Here are some highlights of the crypto market.
Bitcoin news
Analyst and trader Tone Vays have detailed a long-term bullish case for Bitcoin (BTC) after the leading digital asset hit a 2-year low.
In a new video, Vays told his 123,000 YouTube subscribers that even if bitcoin falls to around $11,000, the largest crypto asset by market cap could still hit an ATH of $100,000 next year.
The veteran trader believes that the Bitcoin crash could attract buyers who plan to hold BTC for the long term.
"Even if BTC goes back to $11,000, it could still bounce back and hit $100,000 in the next year. Because a lot of Bitcoin is going into cold wallets because people can buy it cheaply."
Vays said that if Bitcoin closes above the $18,500 support this week, it could be a sign that the top crypto asset has bottomed out.
Funding rates on the BitMEX exchange also suggest that Bitcoin may bottom out based on past behavior, according to analysts.
"The last time BitMEX funding rates were this low was in May 2021, when BTC hit $30,000. Soon after, the market rebounded sharply, heading for ATH at $69,000.
Tether News
On the night of November 11, 2011, several FTX-related wallet addresses were found to have moved millions of dollars worth of cryptocurrency without official notification. This has sparked speculation ranging from the start of FTX's bankruptcy proceedings to the involvement of hackers. Within hours, FTX confirmed on Telegram that the transfer was part of an ongoing attack.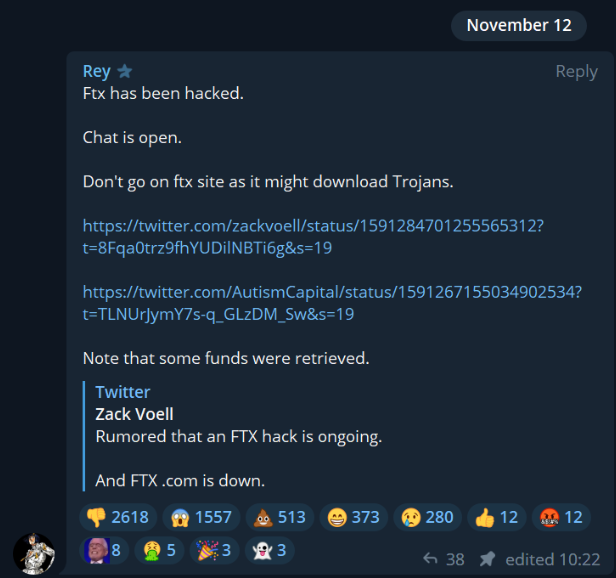 FTX Telegram Admin Confirms Exchange Hacked | Source: Telegram
After FTX confirmed the hack on Telegram, Tether voluntarily blacklisted $31.4 million worth of USDT associated with the transaction.
Blockchain Investigator ZachXBT says the amount of USDT on the blacklist includes 3.9 million USDT on Avalanche (AVAX) and 27.5 million USDT on Solana (SOL).
Bitfinex News
The collapse of major crypto ecosystems such as FTX and Terra this year has highlighted the importance of transparency about the actual reserves held by exchanges and e-money businesses.
With fear, uncertainty, and doubt (FUD) pervading the cryptocurrency space, the exchange Bitfinex has revealed evidence of its reserves to the public.
In the past few days, major cryptocurrency exchanges including Binance, OKX, Kucoin, and Crypto.com have pledged to share their proof of reserves in an effort to restore investor confidence. As such, Bitfinex CTO Paolo Ardoino shared a list of the main Bitfinex wallets approved by Bitfinex. The last time was November 11th.

GitHub repository containing Bitfinex Proof of Reserve | Source: GitHub
As shown above, Ardoino has shared Bitfinex's proof of reserves on GitHub, he lists a total of 135 hot and cold wallet addresses, totaling about 204,338 BTC; 1,225,600 ETH, and many other top coins.
FTX News
Fraud allegations mount when the FTX exchange is said to have a "back door" through which the leadership can withdraw money.
The highlight event of the past week was the collapse of Sam Bankman-Fried's FTX exchange after only 5 days. Although the specific reason is unknown, there have been many reports confirming that Sam Bankman-Fried took money from FTX users and lent it to the investment fund Alameda Research, and then suffered a loss of up to $10 billion.
Specifically, the source said Sam Bankman-Fried held talks with FTX executives after Binance threatened to sell FTT worth $580 million. During the meeting, the CEO showed a series of documents showing a $10 billion deal between FTX and Alameda, but $100 million to $2 billion of that was not included in the investment fund's asset filings.
It didn't stop there, information resource Reuters also said that the exchange's legal and financial management team discovered that FTX's system also had a "backdoor" that allowed Sam Bankman-Fried to change financial data without alerting anyone, including the internal audit department.
Amy Wu resigns from FTX Ventures
As the collapse of cryptocurrency exchange FTX continues to send shockwaves across the industry, Amy Wu, a former partner at Lightspeed Venture Partners, says that she resigned from FTX Ventures.
Wu's resignation comes as FTX has filed for Chapter 11 bankruptcy protection and its founder Sam Bankman-Fried stepped down as CEO amid allegations of fraud and incompetent client money mismanagement.
Wu joined FTX in January to lead the launch of the venture capital arm, Bankman-Fried, with an investment of $2 billion. Since then, FTX Ventures has been involved in several multi-million dollar deals.
Biconomy News
Biconomy (BICO) announced the Biconomy SDK on November 15th.
Follow notice from Biconomy (BICO), the multi-chain transaction infrastructure that makes Web 3.0 simple and ubiquitous, which will launch the Biconomy SDK on November 15th.
Biconomy SDK is the ultimate toolkit for leveraging smart contract wallets and building custom transaction journeys to provide users with a unique experience.
BlockFi News
FTX, which filed for bankruptcy yesterday, has granted BlockFi a $400 million line of credit.
California Department of Financial Innovation and Protection (DFPI) say they will suspend BlockFi's lending license.
According to a DFPI press release, the move was in response to BlockFi halting withdrawals on Thursday night, citing a lack of clarity on FTX.
FTX US extended a $400 million line of credit to BlockFi earlier this year, and DFPI said the suspension will last at least 30 days.
Cosmos News
Cosmos recently reported on an update rolling out around its DeFi network, recording a new milestone in inter-chain communication (IBC) remittance transaction volume.
Follow tweet of The IOBscan was released on November 10, and the total value transferred from Cosmos was nearly $8.7 million. The surge in the number of transfers could herald a positive future for the network.
Galois Capital News
Hedge fund Galois Capital, which successfully shorted LUNA, is in trouble after half of its assets were stranded on the FTX exchange.
According to the Financial Times, Galois Capital co-founder Kevin Zhou just announced in a letter to investors that despite the successful withdrawal of some assets, "about half of the fund's assets remain stranded on FTX."
Reconfirmed with CoinDesk, Kevin Zhou says the amount stranded on FTX is about $40 million, which is different from the $100 million estimated by the Financial Times.