From the point of view that Bitcoin has bottomed out and is gearing up for a new growth driver, MakerDAO has spoken out to reassure users. Here are some highlights of the crypto market.
Bitcoin news
Morgan Creek digital cryptocurrency hedge fund managing partner Mark Yusko is emphasizing A bullish forecast for Bitcoin (BTC) despite the recent market downturn.
In a new interview with YouTuber Benjamin Cowen, Yusko said that Bitcoin will fluctuate for months before rising in a parabolic manner to six-figure prices.
"What's happening is that the market will likely start to recover in the first quarter of next year, the start of the crypto summer. The next halving is in January or February 2024, and the space typically goes parabolic in the first nine months." sports."
Given the Metcalfe model Cowen used, he said the $100,000 level is certainly possible.
According to the hedge fund veteran, Bitcoin has shown great resilience after the FTX exchange crash.
"In theory, when Bitcoin breaks out of the $18,000 falling wedge, there really isn't much strong support in the $12,000-13,000 area where it started before the big 2020-2021 bull run. However, when the FTX exchange crashed, BTC only traded from $21,000 plummeted to $15,000, and recovered from there. This shows that the market is still in pretty strong shape and maybe BTC has officially bottomed out of the current cycle."
Uniswap News
Wu Blockchain stated that the Uniswap DEX has been down for several hours. Apart from this, notice the project's Discord channel also revealed that users were unable to access the exchange's web application due to ongoing issues.
Uniswap's engineering system is experiencing Cloudflare routing issues. The exchange encourages users to use the web version through the IPFS link until the above problems are completely resolved.
MarkerDAO News
After the Gemini Earn service was affected by news that Genesis Trading had suspended withdrawals, MakerDAO has speak out Reassure users and explained the details of the agreement with Gemini's cooperation agreement.
"GUSD's reserve fund is completely separate from Gemini Earn operations. Additionally, MakerDAO and the stablecoin DAI do not invest in or have any relationship with any Gemini Earn activities."
On the evening of November 16, the Genesis Trading lending service announced the suspension of withdrawals. As a direct user of the above services, Gemini Earn also had to announce the suspension of user withdrawals.
As a result, the Gemini exchange began to inflow a large number of funds, including $230 million in stablecoins, $370 million in BTC, and $250 million in ETH. Notably, the exchange's stablecoin reserves have dropped to the $150 million threshold.
One thing the community is concerned about is whether the stablecoin developed by the Gemini exchange (GUSD) will maintain a 1:1 peg to the original asset.
zkSync News
zkSync developer Matter Labs has raised $200 million in an investment round co-led by Blockchain Capital and Dragonfly.
Following notice, Matter Labs, the development team behind Ethereum scaling solution zkSync, has successfully raised $200 million in a new round of investment co-led by Blockchain Capital and Dragonfly. Other investors include Variant, a16z and LightSpeed ​​Venture Partners.
The project is currently in the first phase of its mainnet launch, which consists of three phases and will integrate more than 150 partners. The development team also announced that they will open-source all the code. To date, zkSync has raised a total of $458 million.
Genesis News
B2C2 market-making institutions have to Suggest After purchasing loans from Genesis' lending arm, the company suddenly ran into trouble after FTX's swift collapse.
Genesis is owned by CoinDesk and managed by the parent company Digital Currency Group. Notably, CoinDesk was also the first to uncover a $10 billion hole in Alameda Research's balance sheet, sparking the current widespread liquidity crisis.
B2C2 founder Max Boonen initially tweeted that the repo loan was a way to "reduce liquidity shortages."
Asked if the tweet was a formal offer, Boonen said "this is the desire to start negotiations" and that B2C2 would "not buy out" all of Genesis' existing loans.
Binance News
Users can now transfer cryptocurrencies from Binance Pay to Trust Wallet absolutely free and quickly.
Following notice since November 16, 2022, Binance Pay has been integrated with Trust Wallet from 2 companies. This move aims to bring users closer to Web3.
Users can now transfer cryptocurrencies from Funding Binance Wallet to Trust Wallet without paying withdrawal fees or scanning/entering wallet addresses. But the feature is currently only available on Android, with iOS coming soon.
StarkWare News
StarkWare has to implement StarkNet Token (STRK) on the Ethereum mainnet.
StarkWare, creators of scalable layer 2 products, has deployed the StarkNet token (STRK) on the Ethereum mainnet. These tokens are not yet listed for sale as the StarkNet Foundation is figuring out the best mechanism to distribute them.
The StarkNet Foundation will receive 50.1% of the total supply of STRK, equivalent to 5.01 billion tokens. Earlier this year, StarkWare raised $100 million in a Series D round at an $8 billion valuation. The total funding raised by StarkWare to date is $262 million.
Other news
Damages declared in last 2 days due to FTX effect
The Gemini exchange has withdrawn cash in batches, and the total amount has reached 750 million US dollars.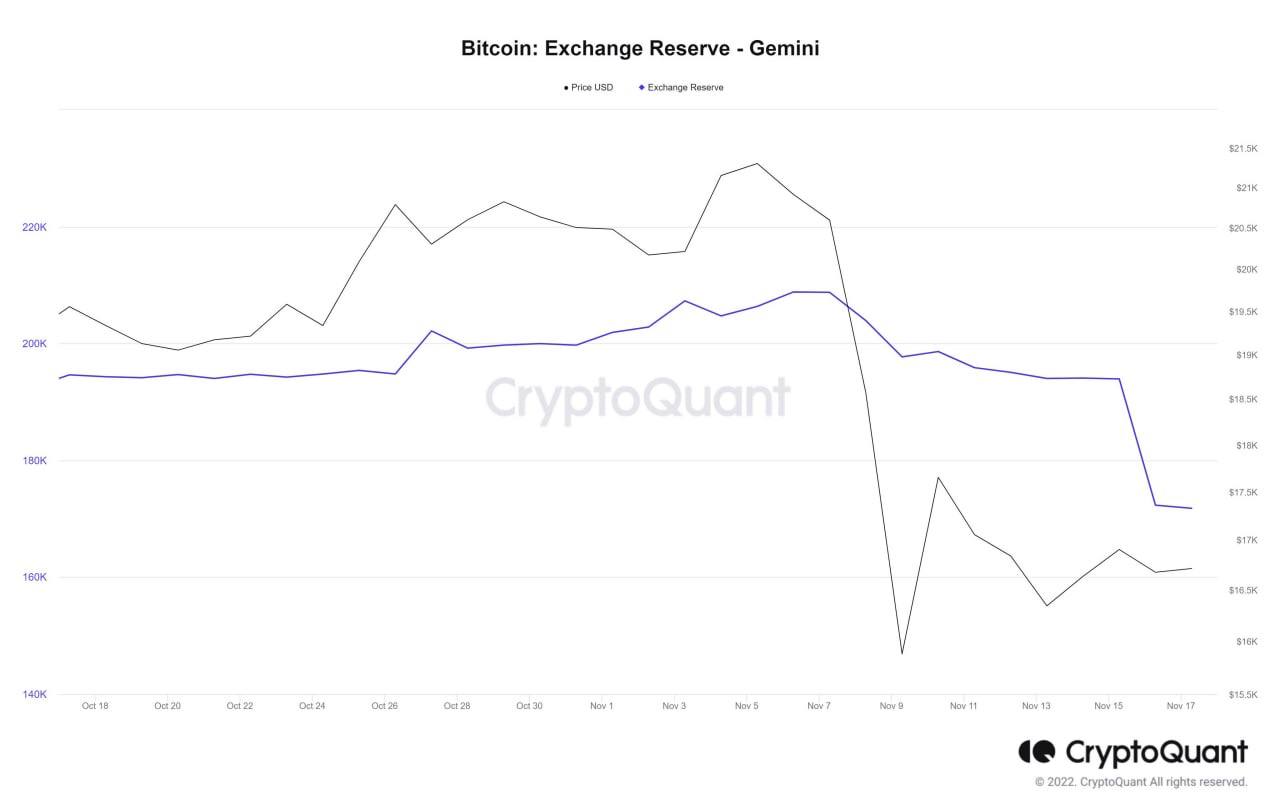 Source: CryptoQuant
Genesis suspends withdrawals and loan offers.
Singaporean investment fund Temasek Temasek said that FTX has lost nearly $300 million in investments.
Multicoin Capital lost 55% of their capital in just 2 weeks. This figure excludes illiquid investments 9.7% of the fund's assets, including derivatives accounts, are held in FTX.